Heritage Tavern
In a word: They're scheming on a thing...
The specs: #00905
131 E. Mifflin St., 53703
Details at Yelp,

Official web site, Facebook, Twitter
Latest Heritage Tavern news and reviews
JM ate the bouillabaisse with a lemonade.
Nichole ate the scallion pancake with a Coke.
The bill was $50, or $25/person, plus tip.
JM gave Heritage Tavern an A-; Nichole gave Heritage Tavern a B+ (see our grading rubric).
Retro naming is all the rage in Madison, as if it communicates something about the nature of your storied cuisine. Vintage... Old Fashioned... Heritage... Certainly, you can find quality food at places whose names range from soup to nuts, but the shorthand of naming yourself something old is equal parts small-c conservative (though the Heritage Foundation does cross the mind) and trying to build in more tradition than you can rightly claim.
On the night we went, and most nights, the server assured us, we could have walked into Heritage Tavern and ordered a whole roast suckling pig to eat family-style, and it would be ready in about an hour. The whole menu is the kind of production that we'd like to call sophisticated, but hesitate to, because that implies that we have some broader knowledge, and what we actually mean is it's way above our heads. Some key words popped out - Au Bon Canard duck breast, Waygu beef, and Mangalitsa pork, for example. So, Heritage is a place for food people.
As it turns out, we didn't eat anything with feet. We only noticed that in retrospect - it wasn't an ideological stance or anything. Though it turned out to be a cheap way to go.
The bread plate was nice. There were baguette slices brought in from either Batch or Madison Sourdough (dang, we are off our game), fresh butter, and a generous pile of fleur de sel that Nichole put on everything because she just loves salt. There was a little jar of pickled asparagus, too, more on that later.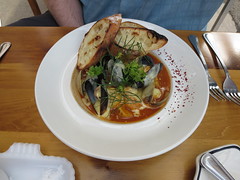 The bouillabaisse was a wonder of fishy goodness in both senses. In many ways, there was seafood here that JM just plain would not have eaten if it hadn't been coated in buttery soup. The flavor, though, was right, with more spices than specifically seafood-y overtaste. This all turned out to be good because Heritage had the JM-style problem, namely everything looked great except for one thing in each preparation that scared him off. In some ways, the less he knows about what's on his plate, the better.
The vegetarian scallion pancake & root vegetable slaw dish was pretty, and colorful. The cubes of fried tofu were amazing - soft and light. The slaw, carrot planks and long, unruly red and green cabbage shreds, came in a creamy white soy dressing. The gochujang butter, made with Korean fermented chili paste, added a bite to the works. The cashews were chewy little nuggets and the fried farm egg was delicious; probably the least fun but most filling part of the dish was the actual pancake, which seemed a little overcooked.
Based on the not-so-wonderful asparagus (woody and greyish) that came with the bread plate, and the little dish of kimchi with the scallion pancakes, the pickle program at Heritage could use some fine-tuning. The flavors were OK but the textures were just a little soft, and the colors unappealing.
Other than that, Heritage offers a high-end experience at just below market prices. That makes it a go-to spot for after work drinks and fancy dinner, but it sure seems like Madison has a lot of these places and we can only hope that each one survives the others.